Costume Contest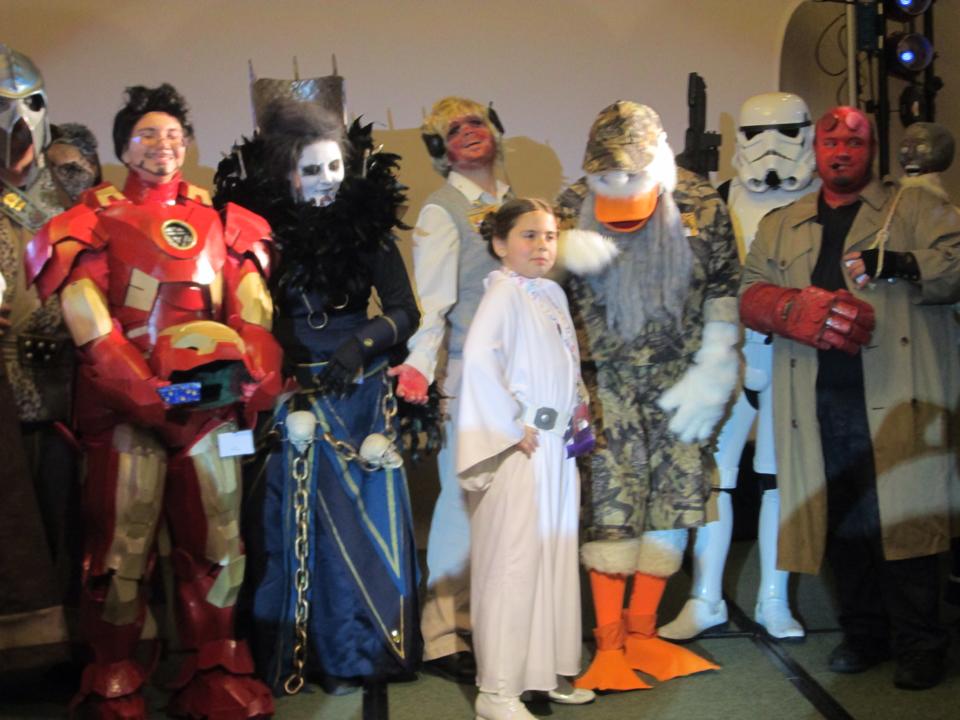 Rules, Regulations, and Guidelines
It is very important that you read all the rules!
Costume Contest Event Staff Motto: For cosplayers, by cosplayers.
---
The CONtraflow Costume Contest is for the contestants, judges, audience, and staff members to have fun and to honor the skill that goes into preparing/making/assembling a costume.


All awards presented are at the judges' discretion.
The following Judging Criteria: Judging Categories (10 points possible for each category)

Costume Accuracy – Does it look like the character it's intended to look like?

Originality – Is it creative? How unique is it? Has this been done before?

Presentation – Was there an intro or skit? If yes, was it well thought out? Did it fit with their costume? Did the entrant play to the audience? Did the entrant interact with the audience?

Craftsmanship – Is the costume made / put together well?




A total of only 60 entries will be accepted. Please make sure you register at the Costume Contest Sign up table.

Cadets are entrants that are aged 0-13 years of age. ONLY 20 Cadets will be accepted.

Astronauts are entrants that are aged 14 years of age and beyond. ONLY 20 Astronauts will be accepted.

Groups are entrants that are all ages. Groups are considered one (1) Entry. Regardless of the participants of said group. No more than two to five people. ONLY 20 Groups will be accepted.




Costume Contest Sign-Up Table Information:

Where: Located near Registration

When: Saturday

Time: 10:30am till 3pm
(Please note: Event times may change as Costume event staff is confirmed)




Contest Entry Form:

Entrants will be required to submit a completed Contest Entry Form by 3 PM the Saturday of CONtraflow.

Incomplete forms will NOT be accepted.

Late forms will NOT be accepted.

Forms can be found at the costume contest sign up table on Saturday




Rules for Skits:

Any Contest entry is allowed to perform a skit.

Skits are to be limited to 1 minute.

All skits must be confined to the stage.

If the Contest entry's skit requires music, then the entrant(s) will be required to provide their own medium with which to play it. No thrown objects or other projectiles may be used intentionally during the skit. Judges will use their own discretion in the case of thrown projectiles.




Family Friendly Program: Profanity, Vulgarity, and Nudity will NOT be permitted during the Costume Contest whether by Entrants or their associated media.


Costume Appropriateness: Contest entry appropriateness is at the Contest Coordinator's discretion. If the Contest Coordinator deems a costume as inappropriate, then the costume will not be allowed to be used for the contest.


Contest Walk-through/Prejudging: Entrants must be present at a Contest Walk-through (One hour and half before the costume contest)

Please keep in mind that the walk thru, prejudging and costume contest will be 3 hours. We asked that you eat and use the facilities beforehand. There will be a water station and restroom breaks throughout the 3 hour period. While judges deliberate, there may be a 25 to 30 minute half time show.

Prejudging will be made during the Contest Walk-through.

Failure to attend or arrive on time to Contest Walk-through will result in disqualification.

Any cosplay/costume that has won any type of award at any various conventions will not be allowed to be used for the contest.

Lying to judges during Prejudging or Lying on Contest Entry Form will result in Immediate Disqualification.




Entrant personal items:

Event staff will not be responsible for entrant's personal items (i.e. purses, phones, keys etc.) during the walk-through or the contest. All entrants should make appropriate arrangements for their items before the Contest Walk-through.

Failure to adhere to Costume Contest Rules will result in a penalization of either point deduction or disqualification at the discretion of the Judges or Contest Coordinator.

The Contest Coordinator has a final say on all Disqualifications and his/her decision will stand.