CONtraflow Faithful Friends and Fen:
After much discussion, long board meetings, working back and forth with the host hotel, city/parish/state leadership, and Southern Fandom Confederation/Deep South Con representatives , the board of directors of CONtraflow has come to the following conclusion: under current conditions, we cannot give you the amazing Fan experience that you all have come to expect from the previous nine years of CONtraflow. We must reschedule CONtraflow 10, originally scheduled for this coming November 13-15. Hosting our convention as usual in 2020 is impossible in these pandemic conditions, as they currently are and will be for the foreseeable future. There are simply too many unknowns at play at this time. Our only responsible, reasonable, and possible choice is to reschedule CONtraflow 10. Please know this decision is as tough and painful for us as it is for all of you. We didn't make it lightly and hope you will support our decision.
I am sure most of you have questions about the rescheduled event. I'll try to answer a few of the big ones.
The new date for CONtraflow 10 is October 1-3, 2021 at the Airport Hilton in Kenner, Louisiana. We are currently working on guests and speakers for the new convention dates. We'll have a first flier about the new dates up on social media for you to share in the next few days. We are planning to have a more detailed flier with guests and major events up and out there online before the end of September.
If you have pre-registered for CONtraflow 2020 and are willing to roll that badge forward for 2021 you don't have to do anything — we'll be happy to convert your 2020 badge to a badge for 2021. We completely understand and will work with you for a refund if that option not in your financial picture, however. For information about requesting a refund, contact us at info@contraflowscifi.org. You will have until August 31, 2020 to request a refund if you would prefer it. We will automatically roll your membership over into one for 2021 if you don't contact us about a refund by that date.
As for the DeepSouthCon 58 (2020) to be hosted by CONtraflow this year, there are plans for a virtual DeepSouthCon 58 mini convention featuring panels, programming, the annual SFC meeting and the Hearts tournament, and more on the Saturday of the original convention weekend (November 14, 2020). We are working out the details of online hosting and any possible costs and will be updating you with details of the virtual DSC in the coming weeks. We are also looking at (conditions permitting) a local Fan celebration in Spring 2021 to act as an official kick-off party and fundraiser for the delayed CONtraflow 10. Stay tuned for more on the kick-off party in the coming months.
If you have more questions and concerns- please drop us an email at info@contraflowscifi.org or message us through our Facebook page.
CONtraflow Faithful, all of us are going through a lot during this unprecedented time. However, I believe we can get through it together and will support each other as much as we can. Your continued support for CONtraflow in this time means more to us than you can ever know. We hope you all stay safe and healthy because we are counting on seeing every one of you in 2021 for CONtraflow 10!
Thank you all. FIAWOL!!
Frank Schiavo
Chairman, CONtraflow 10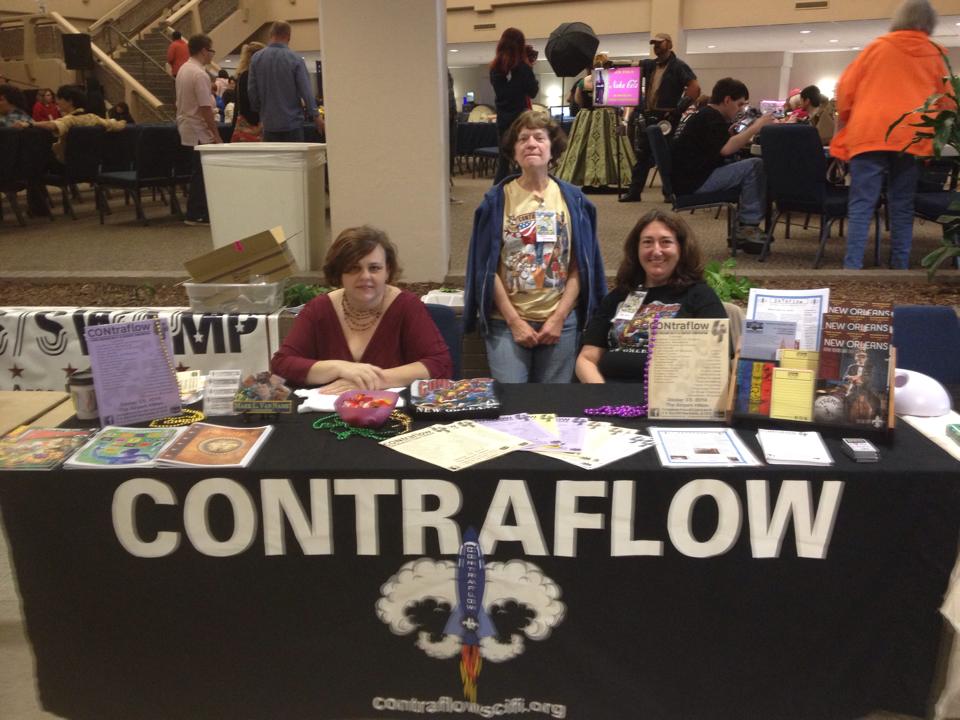 CONtraflow X
Science Fiction & Fantasy
Literary Convention
with a New Orleans Flair
October 1st - 3rd, 2021
Kenner, Louisiana - New Orleans Airport Hilton
read more [ ./contraflow-x#more ]