Jessie W. Craig, Charisma Kills Studios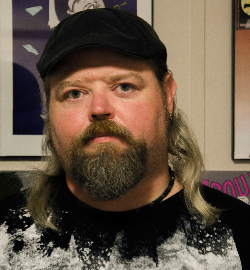 Jessie is a native of Ponchatoula, Louisiana. After exploring various career paths ranging from state licensed private investigator to classically trained Cordon Bleu chef, he decided to concentrate on his life-long love of art and comics. In 2011, he started Charisma Kills Studios toserve as the brand for his various artistic endeavors. His first project was the webcomic, Sweet Dreams are Made of Worms. It was followed by the webcomics Apocalypse Pizza and C.O.G.Comics, a webcomic based on New Orleans' own musical mad scientists, the Consortium of Genius.
After taking an interest in transmedia story telling, he enrolled in the new media and animation program at Southeastern Louisiana University to learn the skills needed to incorporate multimedia projects into his works. In 2015, he published his first printed comic, Kenshin 1281 which tells the story of a fictitious Samurai's fight for honor during the historic Mongolian invasions of Japan. The second, Parasomnia, is an experimental comic using digital collage to create an abstracted visual narrative with no words. It was accompanied by a brief animation adaptation which featured music by the C.O.G.
His other notable works are the October 20th audio drama "Who is Shields McKloskey?" written by Marius Hjelseth, and various collaborative works with indy and web comic creators such as Velvet Rasputin and Abby Comics. He's art and comics have been exhibited at the Olde New Orleans Rum Distillery and The Southeastern Contemporary Art Gallery, as well as An Evening of Animation at St. MaryMayJaks and the TXT & IMG exhibit at the Antenna Gallery. He's attended numerous local conventions and done program covers and t-shirt art at these events, as well.
He is currently a freelance inker for the STEM based Podpi comic, and a technical editor for Abby Comics. As for his own work with Charisma Kills Studios
[ http://www.charismakills.com ], print adaptions of both Apocalypse Pizza and Sweet Dreams are Made of worms are in early stages of preproduction.
---